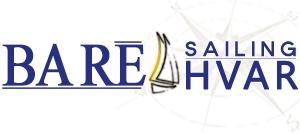 About Us
BARE SAILING is a company owned by the Jurišić family of Hvar, who have been in business in marine recreation, water sports and sailing for many years now.

BARE SAILING owns a "Reflex 38" sailboat, and a "Lolivul" powerboat  and "Tornado" speedboats.
Our skippers have many years of maritime experience and comprehensive knowledge of local destinations.

Choose our tours, choose us – and we guarantee you an outstanding experience!
---
Skipers:
Sailboat
Edi Jurišić
Filip Jurišić 
Speedboats
Jerolim Jurišić 
Matija Škiljo
---
Contacts:
DOBRI OTOK d.o.o.
ul. Jelke Bučić 2
21450 Hvar
Ovlaštena osoba: Jelena Jurišić, članica uprave
OIB: 41108598847
EORI: HR41108598847
IBAN6123400091110344066
BI/SWIFT: PBZGHR2X
Trgovački sud u Splitu, godina osnivanja: 2008.
Registracijski broj 060246243
Djelatnost: 50.10 Pomorski i obalni prijevoz putnika (NKD 2007)
Porijeklo kapitala100% domaći kapital
Registrirane djelatnosti
gospodarski ribolov
prerada i konzerviranje riba i ribljih proizvoda
prerada i promet školjaka i rakova
pomorski i obalni prijevoz putnika
iznajmljivanje plovila
športska rekreacija
športska poduka
tečajevi za početnike i napredne, za ronjenje, plivanje, jedrenje, daskanje i skijanje na vodi
pripremanje hrane i pružanje usluga prehrane, pripremanje i usluživanje pića i napitaka, pripremanje hrane za potrošnju na drugom mjestu i catering, te pružanje usluga smještaja
turističke usluge u nautičkom turizmu, turističke usluge u ostalim oblicima turističke ponude i ostale usluge koje se pružaju turistima u svezi s njihovim putovanjem i boravkom
računovodstveni poslovi